Planning for your big day can be full of excitement, but it can also bring in a lot of stress. One thing that helps both ease the worry and add to the celebration is picking out music that you love! Choosing wedding music and putting together a wedding playlist provides an opportunity for couples to express themselves on their special day; from romantic first dances and choreographed father-daughter dances, down to the celebratory sparkler exits, tunes will create an ambience throughout all events planned. Let's take a look – together – at how best to craft your perfect wedding soundtrack.
So how do you go about choosing the wedding music for your perfect day?
Let's start at the beginning with the wedding ceremony music…
The music playing in the background as your guests arrive into the room and as your husband-to-be waits, probably, anxiously for your arrival, should be for him. By that I mean music that makes him relax and feel calm (he's going to need it!). Then, once the signal has been given that you've arrived, it should be something that he knows means just that. He then doesn't need to keep looking anxiously at the door. He knows you're outside.
The ceremony
This normally has three musical sections:
The processional, as you enter with your father, or whoever is giving you away. Triumphant-type music is great for this, especially if timed that as the crescendo is reached the doors open and you step through.
The signing of the register. Normally two or three pieces to allow for photos.
The recessional, as you leave as husband and wife. Something joyful or really meaningful to you. This is your "we've done it" piece.
The tracks chosen for these parts often have to be edited so that the right part, often the chorus, plays straight away. You don't want to be already at the altar before the track gets going!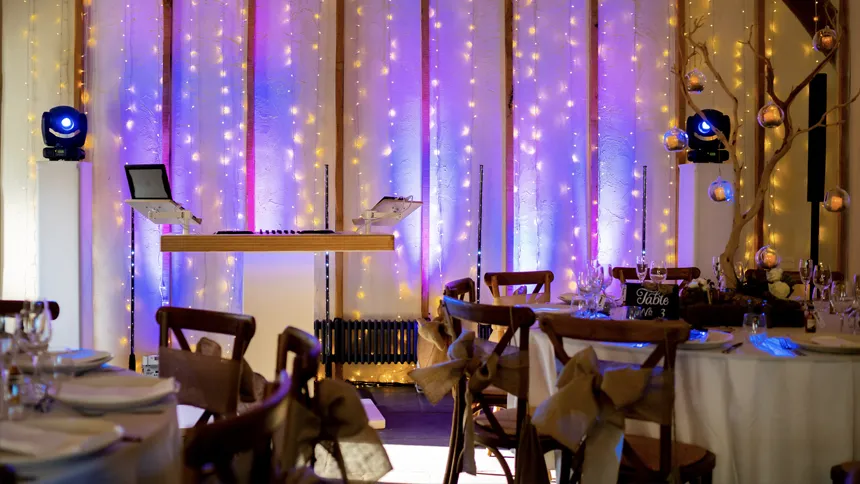 The Wedding Reception
The drinks reception
Softer music is played in the background as you meet and mingle with your guests. This can be all sorts from classical strings or modern strings such as the Vitamin String Quartet to smooth jazz to more modern, slower songs. A great time if you're Indie fans to play a lot of the music that you can't dance to, but love to listen to.
The wedding breakfast
Again, softer music, played at a level that your guests can still communicate with each other. I like to start slower and more instrumental, gradually moving the tempo and styles upward, so by time the meal is over people can't wait to get up and dance.
It's a great time to play music for the older generation, your grandparents etc. The Rat Pack still add a distinct air to any wedding breakfast and everyone knows the songs. But equally, there are loads of Indie and alternative rock songs that you just can't dance to, but are great to listen to… Can you name a "dancey" Oasis song?
The evening party
Now it's time to dance!
You may choose to have a father daughter dance. It's a great opportunity to have a dance with your dad who will have had a pretty emotional day too. I like to arrange these just before the 1st dance so it reflects on the ceremony, in that your dad will then hand you over to your new husband ready for your 1st dance together. I've written a blog post all about the father daughter dance with lots of information and ideas for songs that you can read.
Your first dance song can be to something deep and meaningful to you, a track from your favourite film or just a great fun song. If you're nervous about dancing in front of all your guests, just try to remember that they are all here for you. To celebrate with you, they're not there to poke fun. Just enjoy it! You don't have to do anything to elaborate, the "standard" slow shuffle is fine. Enjoy the moment, think about the day and the days to come together…
I've also written a blog post all about the first dance with lots of information and ideas for songs that you can read.
You might like the guests to be invited to step forward and join you towards the end of the song. It's always best to pre-plan this by asking your wedding entourage and close family to step forward on cue to encourage others. It's good to have a 2nd slow song that everyone can join you for. That way everyone is on the dance floor ready to start.
Then it's on with the dancing! and time to play those classic wedding songs (but that's another blog post…)