Wedding Industry Awards 2019
3x National Award Winning Wedding DJ Hampshire
Helping You To Plan Your Perfect Wedding
What you really want for your wedding, is for your family and friends to have a great time!
Dancing until your feet hurt, to music you absolutely love – the perfect ending to your perfect day. But how do we make sure that happens? Well, we plan it together discussing just what it is that makes a cracking party for you. The best parties and weddings don't just happen, they are planned to the nth degree. Let me work with you and use my extensive knowledge and skills as a Master of Ceremonies to help you create a day to remember forever.
Wedding DJ Hampshire, Alan Marshall's, Facebook Reviews:
Let me worry about the "to do's"
so that you can concentrate on the "I do's"
Just one of my many reviews…
Francesca & Leigh
Thank you so much for making our day so magical. Your hard work and dedication to us as a couple leading up to our day really showed through. I had many compliments on you from our guests and you really put us at ease. Your extra touches to the day have brought us memories we will never forget. I cannot recommend you enough!
Married 31st December, Warbrook House
All Day DJ Wedding Service
Looking for the ultimate in personalisation, professionalism and fun, guaranteed to transform your lovely day into one you never even dreamed possible.The All Day Wedding DJ Service is the perfect choice for you: You come to me because I am an expert in my trade, our all day service will ensure you get just that.
Read more
Bespoke entertainment
Pre wedding day consultations
Unlimited help with planning
Master Of Ceremonies
Hosting and day management
Evening DJ
Access to our online music library for song selection
Prior consultation and music guidance
Control over what not to play
Full equipment setup
Our Money Back Guarantee
Our Finishing touches service
Our Wedding Guarantee
Also includes if required:
Ceremony Sound Production
Customised Wedding Breakfast Entrances
Custom Music Edits as required
Music for drinks reception
Wedding Breakfast Background music
Radio microphone for speeches
It is about giving your special day the WOW factor. It's about putting smiles on faces, bringing people together, and giving you and your guests a day they will never forget.
This services creation has been extensive including travelling the world many times to work with the very best DJs in the world, bringing that knowledge back to UK shores to create the entertainment experience that's perfect for you. 
Evening DJ Wedding Service
With 30 plus years of experience specialising in weddings, having trained with some of the best wedding DJs in the world, you can rest assured that the dance floor will be full throughout the evening, that all the music you love will be played, and your guests will leave with some incredible memories of a fantastic night.
Read more
Access to our online music library for song selection
Prior consultation and music guidance
Control over what not to play
Full equipment setup
Our Money Back Guarantee
When you book our evening wedding DJ service, you and your friends can choose all of your favourite must-play songs. As well as highlighting the ones you love, you can also tell us the ones you hate, and we promise not to play them even if your best friend's auntie gets on her knees and begs!
Evening Wedding DJ or something more…?
Most couples have no idea of the level of service that I can provide for the whole of their wedding day as a wedding DJ Hampshire.
To read Wedding DJ Reviews from my previous, fantastic clients, click below.
The Love Story
What is a Love Story?
Your love story put simply, is how you met, fell in love and came to be getting married. It's a chance to "connect" with the guests at your wedding and explain your story in a romantic, fun and entertaining way.
Let me set the scene for you… it's just before your first dance together, all of your friends and family are gathered around waiting in anticipation… You and your new husband take a seat at the front of the room and I, as one of only a handful of DJs in the UK who has had the necessary training to skilfully present your Love Story, begin…
This can be one of the highlights of your wedding day. Your guests will cheer, ooh and ahh, laugh and even shed an emotional tear or two as they hear about how you met, fell in love and realised that you were destined to spend the rest of your lives together.
This is perfect for setting the scene for that all-important first dance together.
Let's talk about your love story
What sets me apart from the rest…
I bring the WOW factor – there's no shortage of entertainment.
Personalised entertainment for your special day – unique with a creative twist.
I work with you to create the right Entertainment Experience for you and your guests.
Your comprehensive Wedding Entertainment Planner full of great ideas to guide you.
I have over 30 years experience.
I annually attend training in the UK and America to improve the service I provide.
I guarantee the success of your reception entertainment.
I care about your wedding day as much as you do and I am committed to its success.
We Meet
Make an appointment with me to discuss your special day.
We Plan
Together we design the Wedding Entertainment of your dreams.
We Celebrate
We ensure your Wedding Day goes to plan.
Let's schedule an appointment:
Here is the latest from our bridal blog
16th January 2019, the night I won the National Wedding Industry Awards' "Wedding DJ of the Year". An absolutely amazing night, that was the recognition and culmination of a lot of hard work, to become the best wedding DJ for all of my wonderful...
We are proud to announce that we have recently completed the process and become a member of the Trading Standards Buy With Confidence Scheme. We underwent a series of detailed checks including on our contracts and procedures and have agreed to apply the schemes code of conduct. Just one more reason to choose me for your wedding.
Are you tying the knot?
CONTACT ME NOW FOR A FREE CONSULTATION
Instagram
This error message is only visible to WordPress admins
Warning: The account for needs to be reconnected.
Due to Instagram platform changes on March 2, 2020, this Instagram account needs to be reconnected to allow the feed to continue updating. Reconnect on plugin Settings page
Your Wedding Day Guide
THE TIMELINE OF YOUR WEDDING DAY
The Wedding Industry Awards recognise and reward excellence within the wedding industry.
National Wedding DJ of the Year for 2019, National Highly Commended DJ 2020 and 2018, Regional Winner for 2020, 2019 and 2019 and have made the regional finals for the last five years as The best Wedding DJ Hampshire.
This gives recognition to the continued exceptional level of service to my clients.
I have written a Blog article which includes the comments my couples wrote when they voted for me in the awards and the scores awarded. As well as one about the Regional Awards here South Central Regional Winner 2018
YOUR MONEY BACK GUARANTEE
I care about your wedding day as much as you do and I am committed to its success.
I am not happy with just a shake of the hand and thank you from my couples at the end of the night, for me, it's more personal.
If you're not completely happy with the service I provide, you have my personal money back guarantee.
You simply tell me, I'll then refund whatever percentage you feel is appropriate, whether that be 10% or 100%
My satisfaction record and reputation is very important to me.
I have had 100% satisfaction to date and have never had to repay a penny.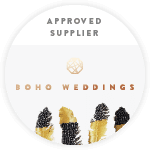 National Association of DJs (NADJ)
NADJ offers a wealth of knowledge, experience, information and training to DJs across its UK branch network giving members a chance to develop their skills. Alan Marshall has served NADJ at various levels from Branch Chairman to National Chairman and is currently the Personal Development Officer.